Welcome to Convention
Letter from MD105 Convention Host Committee Chair
"Lions It's a Kind of Magic" - 70th Multiple District 105 Convention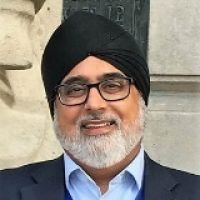 Fellow Lions,
I hope that you and your loved ones are continuing to keep safe and well and are fully up to speed with the latest on our new normal. Just as importantly, I hope that you are ready to 'get physical' with our 70th Multiple District (MD) Convention, that is just months away!!
The MD Convention team is working hard for you, and we have a fun and exciting agenda, that will be delivered to you at the Convention venue, the Birmingham Conference & Events Centre part of the Holiday Inn Birmingham City Centre between 29 April and 1 May 2022.
I hope you are all as excited as the Convention team pulling this weekend together. We are having great fun organising this 'back to physical' event just for you, and we hope that many first timers will join us, as well as those MD Convention stalwarts.
It is a great honour for me as MD Convention Officer to work with the team, without whom our 70th MD Convention would not happen. It will be magical, it will be fun, it will be exciting, and we will get the business of the day done too. Please plan to join us and be part of our future in MD105.
In preparation, we will be rolling out regular information and of course, you can access the MD 105 Convention 2022 page at MD105 Digital Convention for information and registration.
Stay safe and well, we look forward to welcoming you to the MD105 'Physical' Convention on 29 April with a fun filled Welcome Night Dinner and 70th Birthday Celebration.
Lions It's a Kind of Magic,

PDG Lion Gurcharan (Guch) Manku PMJF
MD Convention Officer