Youth Portfolio reports to Convention 2023
Youth Portfolio Coordinator report to Convention 2023
PDG Lion Doreen Allen
Firstly I would like to thank and record my appreciation of all MD Youth Officers under this Portfolio who have promoted, encouraged and supported Lions Clubs across the MD with their youth activities this past year. They have shared ideas and good practice and lead by example.
As Portfolio holder, I have continued to promote the individual MD Youth programmes in conjunction with our District Officers, helping to point them in the right direction in whatever way I could.
As an MD we have programmes for ages 8-21 and
although the Covid pandemic and lockdown is behind us we are still playing catch up. Activities in schools, youth groups and uniformed groups have opened with some restrictions, or even remained closed to outside organisations. We have still endeavoured to seek out entrants into our youth activities.
The individual Officers have included their reports …please take time to read them and discuss at your next meeting….why not try a youth activity new to your club? Making the links with the different community groups and working with young people is likely to continue to have it's complications in the near future but we can do it.
Are you a teacher or school Governor , a youth group leader or member of Scouting… if the answer is YES please look again at the Youth Portfolio and see how the programmes can fit in with your organisations youth programme. Myself and the MD Youth Team are here to help and guide please talk to us.
The Youth Team are here at Convention, come and have a chat with us about the MD Youth programmes.
---
Young Ambassador report to Convention 2023
Lion Sally Marsh
Following two years of virtual Young Ambassador Finals, over the weekend of February 17th – 19th 2023 Lions were again able to meet The Village Hotel in Dudley to recognise the amazing volunteering projects that Young People, from around the British Isles, have thought of, set up and led.
The weekend followed the traditional format of a Friday evening social get together with a hot buffet, giving the Young Ambassadors the opportunity to get to know each other and discuss their projects and Lions and guests to catch up with old friends and make new ones. The Chinese Whispers lead to some very interesting and funny results. Saturday was 'interview' time and 10 pin bowling for the Young Ambassadors. The day concluded with a Gala Dinner and disco. The Young Ambassadors, as is tradition, sold raffle tickets and with the auction £1,000 was raised for the LCIF Turkey Earthquake Appeal. Every year the Young Ambassadors decide amongst themselves, where they would like the money to go. Sunday morning is when the previous year's Young Ambassador and the Shipshape winner update us with a presentation of their year and the 2023 Young Ambassadors explain about their work in their communities. The winners are then announced.
The MD105 Young Ambassador for 2023 is Isobel Hallworth (105SE) sponsored by Newhaven, Peacehaven and Seaford Lions Club.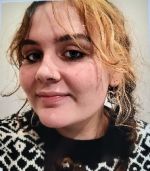 Isobel founded and has worked on Brighton Period Project for one and a half years now, and has no plans of stopping. They work with local businesses as well as some chain supermarkets to collect period products and redistribute them to those in need in the local community. The main focus is on women's shelters and homeless charities, but they also make one-off donations to youth groups for educational purposes, as well as LGBT+ support groups.

Iman Shakeel Darr (105A) sponsored by Letchworth Garden City & Baldock Lions Club, was presented with the Shipshape Award.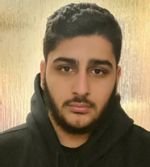 From the start of the Pandemic, Iman helped distribute over 10 tons of food and drink weekly throughout East London and Essex. He also volunteers with the Serving Humanity Foundation Food Bank and is involved with Community Kitchen, every last Sunday of the month serving hot drinks and meals to members of the community experiencing isolation and loneliness.

He also mentors a young boy (15) in his neighbourhood, talking and playing football with him.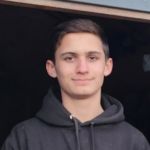 Our representative in Klagenfurt, Austria at the Bert Mason European Young Ambassador Award is Ashton Fulcher (105CE) sponsored by New Century East Anglia Lions Club.
Ashton has been raising money for children's charities for 3 years. He began making items such as bird boxes from wooden pallets, selling them to friends and neighbours. Initially Ashton used an old gazebo for shelter and started making items for Easter, Halloween and Christmas such as the popular Christmas trees. When Ashton's uncle passed away from Muscular Dystrophy he wanted to do something in his memory. A social media page was created to increase sales, and Pallet Teen was born.
2023 will see three Shipshape Award winners join a voyage with the Jubilee Sailing Trust. Katie Bladon (2021) and Cameron Cox (2022) were unable to join a voyage during their year because of Covid and age, so they and Iman will set sail together from Liverpool in July 2023. The appeal for donations by the Jubilee Sailing Trust in 2022 raised almost 1million pounds thus enabling them to continue with the amazing opportunity they offer to young people.
Our Young Ambassador 2022 was for personal reasons, unable to attend the Bert Mason European Young Ambassador Award in Zagreb.
These Young Ambassadors, along with those who were part of District finals over the last three years show how amazing they all are. They, and many more young people across the British Isles, didn't let a small matter of a global pandemic stop them seeing a need and organising ways of supporting those who needed help. Please search out these young people in your towns and villages and recognise what volunteering they do; they are the Lions of the future.
My thanks go to the many Lions who have ensured that these remarkable and inspirational young people are recognised. Thank you to clubs throughout the district who have again identified, supported, and kept in touch with these our Lions of the future. Thank you to all the Lions who supported the YA Awards by attending the 2023 finals at The Village Hotel, Dudley. Also, to the District Officers for their help and support with putting on the 2023 YA weekend.
2023/2024 is 50 years since the first Award recognising Young Volunteers in our communities. Then known as The Youth Award, becoming Young Ambassador of the 21st Century in 2000, it has gone from strength to strength, even a global pandemic didn't stop it.
Fifty years is a milestone worth celebrating and I would like to ask all Lions Clubs across the British Isles to look in your communities for a candidate for the 2024 Award. As you organise service and fundraising events over the next few months be on the lookout for a candidate, contact local youth organisations and keep an eye on your local newspaper and other news media.
I look forward to seeing everyone at The Village Hotel, Dudley, February 16th-18th 2024 and meeting 8 inspirational Young Ambassadors.
---
Youth Exchange report to Convention 2023
Lion Jackie Williams
District A were going to host the 2023 Youth Camp in London but by the closing date for applications we had only received 21 youth applications.
We did open it up for British youth and Ukrainian refugees, but that idea came to nothing, only 1 of the 21 was a Ukrainian refugee. I feel the promotion of the opportunity may have come too late.
The Council of Governors took the decision that MD 105 would cancel the camp before we lost any money with a contract that was for 40 youths plus 4 adults for a 10 day period. The cost incurred was minimised to a get out fee..
The Youth Centre did not have enough Educational, Service or Cultural content to persuade the school to obtain a VAT exemption. This may have been because, but we were not dealing with educators, but we were dealing with the business. It has been suggested that there has been a change to VAT rules, if so we need an accountant who deals with VAT to advise us. I will request Council to seek this clarification
We still have a youth several youths coming into this country who had already booked their flight, I have promised to host them for the complete 20 day period.
Why aren't they coming it is probably a host of global reasons
a. The cost of living crisis isn't a British problem it is a global one.
b. Covid is still out there, Britain has come out the other side but not everywhere has.
c. There is war in Europe. We know it's miles away from us but if non Europeans see Britain is in Europe the might think twice about coming.
When planning next year's camp, we need to ask what lessons need to be learnt
The last council minutes questioned why we had not taken bookings. I believe that there is a council decision from way back saying that MD 105 don't hold places on the youth camp it is a first come first served basis.
I went to Europe to promote the camp but had insufficient supporting information. There was no camp brochure detailing itinerary and location for the camp they were attending.
The council minutes also state that there is a document on how to organise a youth camp. This is an old document which needs updating urgently to help Districts planning to organise future camps.
The European Youth exchange officers is a group of friends who are all working and when I put a call out to Europe to say the camp might fail they did their best to help but they are having problems too
Council have stated that they wish to continue with all our Youth Projects, I will recommend that the council of Governors should sit down and plan where the youth projects are going. We say youth is the future, but we need to act.
---
Peace Poster and Essay Report to Convention 2023
Lion Brigitte Green - National Headquarters
The Peace Poster winner and Essay winner were both present at the Lions UN Day at the Houses of parliament where they both had the opportunity to speak to the Lions members present. Daysi the Essay winner read her essay using a -hired- braille reading machine and was somewhat overwhelmed when PID Phil Nathan announced that he would oversee her receiving her own braille reading machine because of winning the competition.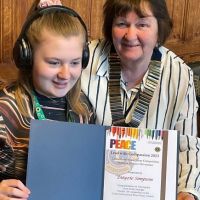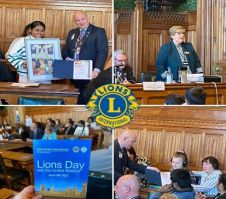 Dayzie pictured here with sponsor PDG Lion Doreen Allan and Harini the Peaceposter winner pictured with a copy of her artwork
The theme for this year's Peace Poster and Essay competition was
"Lead with compassion'
Peace Poster packs have remained the same price as last year and are available from MDHQ priced £14.00 + P&P. The new Peace Poster packs gives useful information for clubs receiving them and also contain the important sticker to be placed on the back of the district winner before they are sent on to National HQ.
New theme for this coming year is 'Dare to Dream'
---
Alpha Leo report to Convention 2023
Leo Officer - PDG Lion Doreen Allen
I thank those Clubs and Leo Advisors who encourage and support the Alpha Leo programme especially after those difficult Covid and lockdown years. It has been a time of needing to re-enthuse schools and local communities to encourage young people and give them the opportunity to serve.
Firstly, a disappointing start in that our active Alpha Clubs have dropped to just four nationally. We do have another eight that are inactive.
Now for the positive the four Clubs have sixty five members in total, in just three Districts. Two of these Clubs have increased their membership this year. There has also been a number of inquiries from Clubs across the UK asking about Leos and how to start a club.
I am extremely proud and delighted to announce that Fairlop Leo Club from District A was awarded a Kindness Matters award from LCI. They were the only Alpha (12-18years ) Club who were presented one of the fifty Lion and Leo awards available worldwide.
Fellow Lions, young people are enthusiastic about hunger projects, environmental issues and supporting their local communities. Are you a teacher or school governor? A Scout or Guide Leader? A parent or grandparent of young people 12-18 years? Do you know are you in contact with a youth volunteer organisation, a uniformed youth group or Young Leaders in Service applicants?
Why not give them the opportunity to serve alongside your Club talk to your local schools – they are all keen to promote volunteering and citizenship. More hands mean more service… please just ASK them.
I am here at Convention, come and have a chat about how we can together increase our Leo numbers.
---
ROAR report to Convention 2023
MDO Lion David Skinner
The ROAR programme for 2022 has been successfully completed with 56 Lions Clubs supporting 121 schools. The programme reached over 25,000 children although Covid once again restricted the expansion of the programme. For the calendar year 2023 we hope to reach a target of 200 schools.
In the ROAR programme each school appointed teams of 3-4 pupils and these teams developed their innovative idea to improve the world. Each school was supported by its Lions Club which, in most cases, helped with the launch and the judging of the ideas to find the school's winning team and presented awards of medals and certificates. The winning team from each school then made a video from which each District Judging Team decided its District Winner.
The eight District Winners then presented their videos at the public National Awards Day zoom event, hosted by our partners 8billionideas in December, which was viewed by over 500 people.
In 2023 The ROAR Team will be working to engage more Clubs and schools and ask District Governors and their Youth Teams to encourage Clubs and help strengthen the ROAR Team when necessary.
The ROAR Team is a talented and industrious group of Lions which I would like to thank for their support and enthusiasm this year. In 2023 the ROAR Team will be looking to assist interested Clubs engage in ROAR- a programme which brings big advantages to children, schools and Clubs and makes you proud to be a Lion.