Global Action Team Convention reports
Global Service Team
PID Phil Nathan – Chair










2,000,000 PEOPLE SERVED
Over the 9 months from 1st July 2021 to 31st March 2022 we have served, minimally, 2,050,958 people;
a fantastic achievement.
1.
May I begin by thanking Council for appointing me to this role. Service to the community has been my watchword throughout my years of membership and I consider myself privileged to be invited and have the opportunity to work with Clubs throughout the MD.
The individual Officer reports will highlight up to date activity in their respective fields.
2.
Global Service encompasses the following Core and Non-Core Service Programmes, guided by the respective MD Officers, whose Council Reports form part of the overall Service area, together with the District GST Officers.
| | |
| --- | --- |
| Diabetes | Keith Hedges |
| Environment | Malcolm Hogg |
| Hunger | Chris Hibbert |
| Cancer | |
| a. Brain Tumour Research | Fran Stary |
| b. Prostate | Dave Ebsworth |
| c. Head & Neck | Phil Nathan |
| d. Childhood | Margaret Riley |
| Lions In👁Sight | Sue Taylor |
| Vision Screening | Stu Young |
| Leos - Alpha & Omega | Doreen Allen |
| MedicAlert | John Sutherland |
| Speech Hearing | Penny Tregillus |
| Physical & Learning Disabilities | Tony Buchan |
| Special Olympics | Alastair Joel |
| Activity Alliance | Penny Tregillus |
| MIAB | Brigitte Green |
| Lifeskills | Mandy Broadbent |
| Youth | Doreen Allen |
3.
Whilst there is no doubt that 2021-22 has not been without difficulties, many Clubs have continued to serve their communities safely and steadfastly. What has been very heartening has been the way that many Clubs have risen to the challenge of finding new ways of serving their communities.
However, we are conscious that many Clubs have not been able to fund-raise in pre-pandemic ways at the present time and this has severely constrained their ability to support projects.
We have an excellent service programme and I know Clubs are eager to take up Vision Screening when we are able. I encourage Clubs to stay active, relevant and focused on serving their communities as we emerge from this most trying time.
4. Service is the key to membership
I have said before, and make no apology for repeating, my belief that, if we get 'Service' right, we will attract members. The programmes we offer and undertake are so good that individuals will want to be associated with us.
The problem remains: we do not publicise what we do, either internally, via MyLion, or externally, using whatever media is available to us.
5. Service Reporting and Contribution
As a Multiple District, we compare very favourably with the level of activity being undertaken within Europe, our Constitutional Area, and globally. With 4.4% of the European membership, we have contributed 17.8% of the service activities recorded and 29% of the people served.
The number of Clubs reporting is increasing, however, I commend District 105A who had 94% of Clubs reporting on My Lion by the 31st March 2022.
As at 31st March reporting Clubs have completed 10,675 service activities since July 1st 2021 serving 2,050,958 people in 238,030 volunteer hours. 40% of the recorded activities support the 5 Global causes.
Remember, we are Lions, Service is what we do and Service is needed more than ever before. The amount of service that is reported is remarkable: thousands of hours on hundreds of projects. But, think what it could be if 100% of Clubs reported their activities instead of the just over 50% that do? The attached report details what we are doing.
What and why the reluctance I neither know nor understand.
6. Kindness Matters Award
The MD nomination, Lichfield Lions Club, District CN, were recognised: one of 20 presented globally.
Congratulations to PDG John May and the Club generally.
7. GST Roadshows
A great deal of work has gone into preparing for the GST Roadshows that will emphasise the wide range of service activities available to Clubs. The first Roadshows, highlighting the work of LCIF, were presented on the 6th & 7th
April with the first Hunger Roadshow being presented on the 26
th
April.
Information on how to register is being sent out to Clubs a few weeks in advance of the individual sessions.
Attendance has been very good and feedback from participants has been extremely positive; all materials will be available on the MD website for Clubs and individual members to access.
8. Meetings
Three 'team' meetings have been held to date, two hybrid and one virtual. The meetings have been very well attended, with over 20 participants at each. They have all been very, very stimulating with all participants demonstrating passion. It is fascinating to see the breadth of projects that are ongoing.
9. Lions Delivering Kindness
In the two years since it was launched, the #Lions Delivering Kindness Facebook page has grown to have a global reach and is viewed by Lions and non-Lions as it showcases the excellent work being undertaken by Clubs in serving their communities.
10. Thank You
I would like to thank the relevant specialist MD Officers and District Officers for their hard work in promoting the Service programme to Clubs.
I must thank the Service Team Secretary, PCC Philip Goodier for his hard work in recording, circulating and monitoring Service activity across the Multiple District; Past International Director Geoff Leeder for keeping us informed about thinking and new initiatives coming from the International Board; PCC Andy Pemberton for running with LCIF and DGE Chris Hibbert for his innovative and encouraging ideas.
Finally, we have come a long way over the past four years, our service is expanding, our activities are innovative and engaging and partnerships have been developed with a wide range of individuals and organisations. In a word, Synergy!
We have achieved much but much remains to be done and I look forward to continuing to drive service forward.
PID Phil Nathan
Global Service Team Chair
---
Download Service Data PDF

1.MD105 Service Data March 2022.pdf
---
Diabetes report
Lion Keith Hedges
Diabetes Programme Objectives
Enhance awareness of diabetes conditions & complications among those most at risk
Encourage those at risk to seek appropriate examination
Involve as many Lions as possible in the Diabetes Education Programme
Clubs and Lions are slowly beginning to recover following a far from easy situation over the past 2 years. This has led to fewer Service Activities with the majority being limited to Foodbanks, collecting essential household items for families in need.
Regrettably the Diabetes Programme has been one of the programmes affected by the pandemic as most of the events we do tend to be hands on and face to face with the public. Diabetics were classified as one of the most at risk groups and were not only in lockdown but also in shielding and with the NHS stretched to the extent it was a large number were not getting the support that was normally available, personally I went 2 years without my review, but it looks as though that situation has now turned the corner and hopefully getting back to some form of normality.
As we all know Diabetes is one of LCI's 5 'Core Programmes' to that end and pre pandemic the Diabetes Team had been working with Diabetes UK and were in the process of launching a 'Type 2 Diabetes Know your Risk Screening Programme' with their support and having already train numerus Lions up and down the MD to carry out the appropriate assessments but again Lock Down prevented this from happing.
Diabetes UK have not been carried out any training or face to face assessments during the pandemic as they were not permitting their volunteers to put themselves at risk.
The emphasis is now on their Type 2 Diabetes Know your Risk on line version, all supporting documentation and advice information is available from Diabetes UK this is a very simple.
'Finding out your risk of Type 2 diabetes only takes a few minutes. it could be the most important thig you do today'
There are an estimated 4.9 million people with diabetes in the UK.
This is predicted to grow to more than 5.5 million by 2030. Nine percent of this increase will be due to increasing obesity.
One of the complications of Diabetes is 'foot and nerve end damage'
Every hour, someone with diabetes has a toe, foot or leg amputated
Future Plans for the Diabetes Team
To continue looking at promoting Health Eating, Changes in Lifestyles And more Exercise. In conjunction with introducing the Lions Strides Programme.
To continue work with DUK in promoting the Online Know Your Risk element to maintain our detection part of the programme.
To expand ways that we may be able to work with JDRF for the betterments of both our organisations
We are still looking at targeting Diabetes Awareness Week from the 10th to the 17th June 2022,
GST will be having a Diabetes Roadshow Workshop to be presented on the 4th & 10th May 2022
There is still some light at the end of the tunnel as long as the light is not turned off or we have to change the bulbs too often.
I would like to take the opportunity to thank the Council of Governors for my appointment & to the District Diabetes Officers for their support and assistance during the last year, and I know they will continue to strive to encourage more clubs in their Districts to get the Diabetes Education Programme back into Clubs Diaries and get involved in activities leading to the detection of Diabetes and support for those with these insides and increasing condition.
Lion Keith Hedges

---
Sight Report
Lion Sue Taylor
MD Sight Officer
One of the major changes this year within the Sight project is the opening of a second recycle for Sight centre at National Headquarters -Birmingham. It should be noted that I am delighted by the recent increased profile this project has experienced in the last six months. Clubs across the British Isles who are really doing a marvellous job, and I must thank Brigitte and her team at HQ and the local volunteers they have recruited not forgetting of course the ongoing work at Chichester. I continue to get queries about whether or not we've found an answer to the best way to get specs to Chichester or Birmingham, and I know the team are working on it.
The Lions Visual Awareness Training (PowerPoint) presentation has now been rolled out to District Sight Officers which was well received.
We still have considerable support for Sight Savers.
A reminder that World Sight Day Thursday is 13th October 202s
I am currently working to produce a short presentation in the GST Sight Roadshow which will showcase all of our sight projects.
For the year ahead I would like- To progress the new Lions In Sight Programme and develop local and national partnerships.
To encourage and support the growth and development of the Recycling Spectacles programme.
I am working on updating existing Lions In Sight posters there has been some delay due to the amount of work involved but I am working with our PR team to ensure we have some excellent Sight material.
Lion Sue Taylor
---
Vision Screening Report
Lion Stu Young
MD Vision Screening Officer
Fellow Lions, thank you for your patience with getting this project moving, we have had a few issues that have caused the project to be paused, these being Brexit and the Global COVID19 Pandemic.
With the National Health Service moving back towards "Business as Normal" we have been advised that all staff will return to their substantive posts across the month of April 2022. This means that we will be able to start moving forward with the Vision Screening Project.
Whilst it has been a very frustrating two years thanks to the Global Pandemic - there is light at the end of the tunnel and I know that in the next 12 months this service project will have a massive impact on Lions visibility across the Multiple District.
If members have questions please either come and speak to me at MD Convention in Birmingham or drop me an email stuyoung@lionsclubs.co.uk


Lion Stu Young
---
Children and Cancer Report
PDG Margaret Riley
MD Childhood Cancer Officer
There has been ongoing support for District Children and Cancer Officers.
I have continued to communicate with Regional Paediatric Oncology Units throughout the UK, reminding them of the Lions project and all of them state that they would be willing to help where necessary.
I have made contact with charitable organisations connected to these units (i.e. Young Lives with Cancer formerly CLIC Sergeant and Candlelighters) telling them about Lions and their interest in Children's Cancer.
Other Matters:
All communication again this year has been by e-mail and we have not had an official meeting due to COVID. However this does not seem to have affected the excellent work done by most Districts
Throughout the world a child is diagnosed with cancer every 2 minutes.
4 out of 5 of these children and young people will live in low and middle income countries where lack of resources and poor health structure conspire against them.
80% of children in wealthier countries like the UK will survive if diagnosed early.
Children in the UK will be treated in a specialist Children's Cancer Unit, most of these being in city centres.
The children will be in-patients on the wards for a minimum of 3 months following diagnosis and their ongoing treatment and support will be continued until early adulthood. It is hoped that they will only be in-patients when absolutely necessary to allow them to have as normal a life as possible.
For most of them they will continue to have their treatment at their Regional Paediatric Oncology Unit, but some will have ongoing maintenance treatment in their local hospital but under the jurisdiction of the specialists
Children's cancers are very specific to children and young people, hence the need for specialist centres and medical staff.
Some teenage cancers are also treated in these units, although some can be treated in adult oncology units.
The treatment protocols are very specific to individual cases, some being very intense and difficult to undergo.
Attached to all the Regional Paediatric Oncology Units there is a charitable organization like "Young Lives with Cancer" (formerly CLIC Sargent) or "Candlelighters" who provide excellent financial, physical and emotional support for the children, young people and families where necessary.
Many donations from Lions Clubs have been made to the Children's Units or one of these charitable organizations and they are always gratefully received.''
PDG Margaret Riley
---
MedicAlert Report
PDG Lion John Sutherland
MD MedicAlert Officer
As reported previously donation to MedicAlert generally our low and although the Lions Early Start Programme, was picking up interest from lions clubs before the pandemic it has suffered since the easing of restrictions. As can be seen below from the graphic contained in the updated information which I requested from MedicAlert, donations from all districts have been low or none at all. There was however £1,200.00 received by MedicAlert towards the end of 2021, this money came from Lions central charities account and the donating clubs could not be identified. I am grateful to those clubs who have donated the funds to keep the lions early start programme running, but I am disappointed by the lack of attempts to identify the clubs when district treasures sent the funds to the central charities account, this also prevents MedicAlert from sending thank you letters and fund updates to those clubs who are supporting the ESP, with the possible loss of future support from the clubs.
The Lions Early Start Programme account has currently enough funds to support the children already in their care but cannot expand the programme to others and of March we have applications for vulnerable children's membership waiting.
Since my previous report I have sent PowerPoint presentation and short videos to all districts and some clubs demonstrating how MedicAlert and specifically the ESP works, this was with the assistance of Brigitte at Birmingham head office.
I am working closely with MedicAlert to produce a more Lions related letter for MedicAlert to send out to participants in the scheme, which should further our Lions exposure to the public. Some stories about children benefiting from the scheme can be found on the MedicAlert webpage.
MedicAlert
MedicAlert is the original provider of medical ID services in the UK. The charity has been trusted since 1964 to keep those with medical conditions safe in an emergency.
Members' custom-made medical ID jewellery features the internationally recognised MedicAlert emblem and is engraved with the most vital medical information to ensure fast and accurate care in an emergency. Each member's full medical record is then available, if required, via the 24/7 emergency line which is accessible from anywhere around the world, in more than 100 languages. Medical professionals simply need to quote the unique membership number that is also engraved on the jewellery.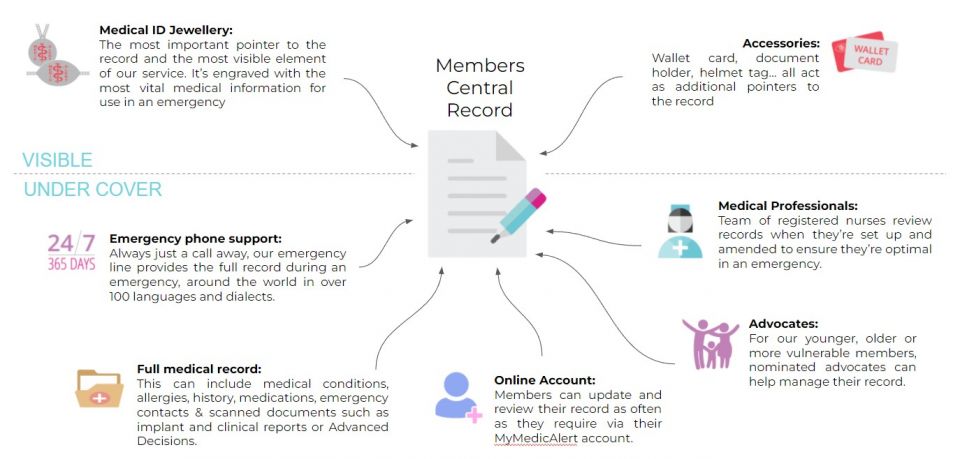 Lions and MedicAlert
The Lions Club has worked with MedicAlert for over 55 years and since 2013 has sponsored children under 10 through the Lions Club International Early Start Programme. The programme provides free MedicAlert membership for vulnerable children every year up until their 10th birthday, along with an item of medical ID jewellery. The programme has protected over 500 children so far, in 2021 alone it protected 155 children.
However, MedicAlert is dependent upon funding, previously provided by the Lions Clubs and needs your help to continue protecting these children. Through the Lions Club International Early Start Programme, we aim to continue to support many more children living with medical conditions with free MedicAlert membership.
Due to the increased demand seen throughout 2021 and now into 2022 there must be a significant increase in the funding received from The Lions Club International. We fully expect this upward trend to continue which means that now, more than ever, we need The Lions Club to allocate more of their hard-won donations to continue support of the programme.
We expect at least 500 new applications in 2022 and need in excess of £14,000 every year to fund every child until their 10th birthday.
For every 2 places that Lions Clubs International funds, MedicAlert sponsor an additional place for the programme, helping to support more children around the UK with hidden medical conditions.
Sponsoring children under 10 is a story that strikes a chord with almost everyone, whether they have children, grandchildren, nephews or nieces, they can relate to the need to keep our children safe.
'This is so important', 'A must have', 'Very practical'
- Recent comments about the ESP programme
The exposure that this can bring to your local Lions Club and the charity as a whole is huge! It helps to make people aware of the fantastic work you are doing for communities around the globe. This can lead to even more donations to your Local Lions Clubs, keeping even more children safe.
My 6-month-old son has severe haemophilia whilst I have mild haemophilia and allergies.
We are very proud of our matching MedicAlert IDs! 🙂
I wanted Jasper to have one as young as possible, so that he is used to wearing it when he's older.
If he is with a grandparent or friend when something happens,
I have the added security that medics would know about his condition. 🙂
Contact Lion John Sutherland, Multiple District Officer, MedicAlert if you would like to protect children with MedicAlert: [email address in MD Directory]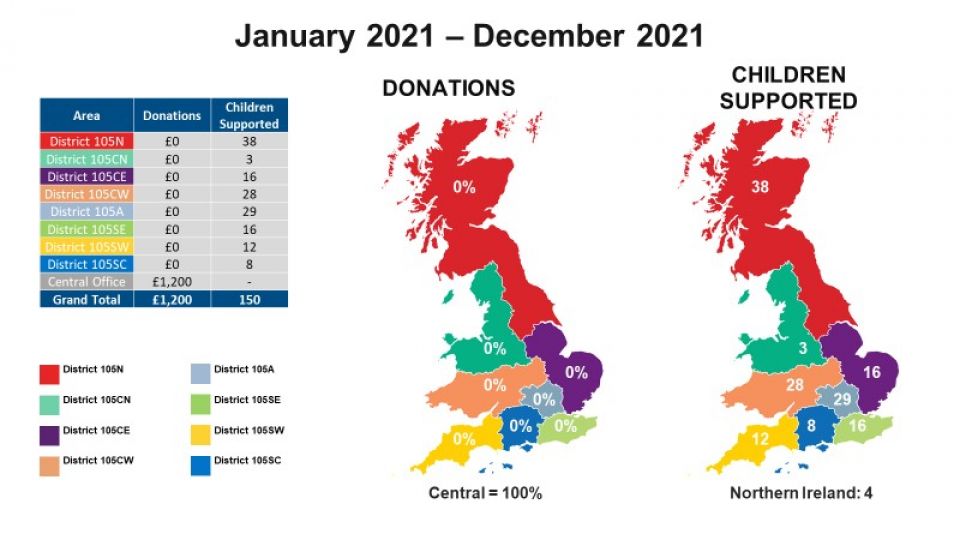 PDG Lion John Sutherland
---
Leos Omega Report
PDG Lion Doreen Allen
MD Youth Officer
Firstly I thank those Clubs and Leo Advisors who encourage and support the Omega Leo programme.
As I write this report, the number of MD Omega Leos Clubs have reduced to three.
London Hendon and London Kingsbury from District A and Guernsey from District SC. This means that our total number of Omega Leos are 25.
These Clubs have mainly focussed on service under the Hunger global cause but only London Hendon are reporting on MyLion.
The Leo-Lions Branch Club in District A has members who were Leos and are now looking to form a Lions Club.
Fellow Lions, as the lockdown opens up, had you noticed the number of young people who worked tirelessly for the homeless, food banks, environmental projects and other community projects? Why not give them the opportunity to serve alongside your Club – more hands mean more service… please just ASK them.
I am here at Convention, come and have a chat about how you can increase our Leo numbers.
PDG Lion Doreen Allen
---
Global Leadership Report
PCC Lion Stewart Sherman-Kahn
Leadership Co-Ordinator
It has been an honour to serve this year as the Global Action Team – Leadership Co-Ordinator for MD105.
This year has of course has seen some return to normality but the new normal of online Meetings and Workshops has been a major benefit for the Lions of MD105.
I see this change as an opportunity for the future. Training has been attended by so many Lions who would not traditionally wanted to travel but can now learn and grow from the comfort of their own homes.
I have also had the chance to work with the District GLT Leads. We have met regularly online to share knowledge and best practice. I wish to thank them all for their hard work and friendship. They are…
District A
Leslie Spence
District N
Various
District CE
Derek Rutter
District SC
Mike Baker
District CN
Liz Axten
District SE
Ian Forbes
District CW
Stu Young
District SW
Jim Patridge-Hodgbin
Face to face Training and Workshops are starting to return which many Lions are happy to attend.
I am pleased to say again this year we have has the opportunity to run a Regional Lions Leadership Institute for MD105 in April with 20 candidates attending and I hope to run another RLLI next year.
The First VDG and Second VDG Training has also been held virtually and I not only have to thank the attendees but the numerous Lions who have taken the time to lead sessions. I must also thank our 3 Past International Directors for their support and attendance.
The good news is that we are able to get the Team of DGE's together for a weekend in May to focus on Team Building and Communication so they will be all set to serve their Districts come July.
PCC Lion Stewart Sherman-Kahn MJF LCIP
Global Action Team – Leadership Co-Ordinator
MD105
---
Global Membership Report
Lion Sue Wilding
Global Membership Coordinator (GMT)
Membership Goals for this year
District Goals were set in a time of uncertainty and change, yet each District saw this as a chance to grasp the challenges, aim high and adopt a mindset of positivity.
As always with Membership, the overall aim is to grow our strength and our impact by recruiting new members, retaining members and starting new Clubs and Club Branches.
As in the previous year, the goals set were aspirational and yet there are continuing signs that success in membership growth can be achieved.
Action taken this year
Some of the things we learnt during the pandemic continued and have made some change happen. For example, using online platforms, communication has been improved and the MD Membership Team has been able to meet regularly. These meetings have included not just the sharing of problems but also the chance to share solutions and advice. The same is true in Districts where online meetings have continued to be held, allowing Lions to talk directly to each other and have their voices heard. Newsletters have continued to be used to communicate information and new flyers have been produced to use in membership promotion.
Volunteering in the community, such as at vaccine clinics, has given Lions more visibility and offered opportunities to reach out to those like-minded volunteers helping in our communities.
Recruitment has continued and in the year 2020-21 we welcomed 757 new Members. At the time of writing, 9 months into the year 2021-22, we have recruited 883 new members and the challenge is on to hit a target of 1,000 by the end of June 2022. We are confident that, with your help, we can achieve this. Congratulations to those Clubs and Districts who are recruiting volunteers and empowering them to Serve.
Retention has been difficult; at the end of March 2022, we had a total of 10,168 members in 578 Clubs. Even without a pandemic or cost of living crisis, this has been a concern for many years with average annual losses of around 4.5% over the last 5 years to July 2021. This time of losses has been predicted and so this cannot be unexpected, it has been written about in Convention reports every year. However so far in 2022 we can see that our 'drops' are slowing down. In the first 9 months we lost 1% so we look forward to an upturn and a Positive Attitude bringing Positive Action. The focus has to be on keeping our existing members as active, engaged and enthused as possible so that they remain as Serving Lions for as long as they can.
New Clubs. Sad though it is to see any Lion leave, even more concerning is that Clubs have closed. To balance this, it is good to be able to report that new Clubs have been formed and work continues to restart some closed Clubs. This has to be a direction in which to focus our efforts and aim to achieve in the near future. We do have the capacity and capability to create New Clubs in areas that we do not Serve at present.
New Voices – Lion Caroline MacDonald
New Voices continues to encourage new members across the Multiple District. New Voices gives each member a voice and a platform to share their stories and innovative ideas, to encourage regionalization and support at the grassroot level.
We have held several zoom sessions over the past year and have invited members of the District Governors teams to attend so that topics discussed could be shared with their teams. The New Voices Initiative could also be focused at district level and I would encourage District Governors to develop a New Voices team with their Nominees/awardees; who could also be part of the team for their area of recognition.
By including your New Voices nominees within teams, they can be can be promoted throughout the year to showcase their talents and contributions and inspire other Lions and Leos, with and added goal of attracting new dynamic members into our association and encouraging them to seek leadership positions.
As New Voices Lead, I am looking to hold a meeting with all the districts New Voices Champions for 2021/22 to discuss how to take this forward on a district and MD. This is planned for September 2022. level on September 5th 2022. It was our wish to hold a New Voices workshop in February, alongside and in conjunction with the Young Ambassador weekend which we know our New Voices would find an inspiring event. We aimed to provide opportunities for development as well as to further support and encourage members to work on the four areas of Membership, Leadership, Service and Marketing. Unfortunately, due to the uncertainty surrounding COVID, this had to be postponed and the plan will be to hold this in the same way in 2023.
Young Farmers Project – Lion David Houghton
Lionistic year 2021 – 2022 has seen the National Federation of Young Farmers Clubs starting to meet face to face once more with many County Organisations planning their county rallies. This gives us a great opportunity to attend these rallies and:
Firstly have a display stand where we can promote Lions and what we do, not only to the Young Farmers but also to their family and friends that attend these events. Message in a Bottle – Young Leaders in Service and other youth projects along with spectacle recycling could feature on these display stands
Secondly offer our service to help them with marshalling in the car park, or where ever we can be of assistance
giving Lions across the Multiple District greater exposure and showing them how we can work together with the aim of making Lions the service organisation of choice for the YFC members and their families to come to when their membership finishes at 26 years of age.

Districts should continue to develop a relationship with all National Federation of Young Farmers Clubs County Organisers to enable this working relationship to develop and grow over a period of time.
General Membership Comment
Nothing would be achieved without the support of a Team. I would like to thank all the District GMT Officers who have supported our efforts in Membership Growth. Additionally, I would like to thank all the members of MD Council for their support and enthusiasm for Membership. Teamwork has been essential and so it will continue.
Positivity and Planning have to be keys to success. We have the process that will take us forward with the Global Membership Approach. This will encourage every District and every Club to evaluate its strengths and weaknesses, decide how to improve and ensure they are attractive to retain current and recruit potential new Members. If that means some changes or improvements in how we operate and how we Serve, then that has to be faced and done.
Membership is an Activity, not a discussion. Going forward we must put in place Actions that lead to Membership Growth. We cannot afford to wait, there will never be a better time – the time for Action is Now. Every Lion has a responsibility to join the movement for Membership growth and play a part.
Membership Matters.
Lion Sue Wilding
---
Message in a Bottle Report
National Office Manager
Lions Clubs National HQ in Birmingham are pleased to report an upsurge in demand for bottles as we come out of Covid
Our work with the Eco workshop in Stratford continues and the team there have become an integral part of this project. The group at Stratford pack the bottles for us and do a fantastic job. This has been such a rewarding two way exchange. Again a celebration of empowering volunteers.
Please be advised we do occasionally work with the prison service however with Covid and the continuing problems within the prison of lockdowns etc it has become quite difficult to work with them and so we continue to have a backup plan so we ensure we do not fall behind with orders.
We have no choice but to increase the cost of bottles. We have already had notification that there will be an increase due to the massive increase in the elements that make up the bottles We are looking in earnest for a different means of creating a receptacle to keep the documents in the fridge.
You may be aware that Lions have been involved in the Message in a Bottle project for 21 years this year. We are pleased that the demand for bottles is as great as ever particularly as the world seems to be more focussed on health issues.
We will still be offering an enamel pin badge that you can use to promote MIAB These pins are available at Lions HQ and cost £3.00 each. Every day at National HQ we continue to receive between 15 and 20 inquiries about this project, mostly on where to obtain a bottle - the requests for bottles continues to grow, and we do all that we can to satisfy those demands. You can be certain we are doing everything we can to ensure your level of service on this project is not simply maintained but increased and we are constantly reviewing how we can improve the support we give to clubs and officers.
---
Physical and Learning Disabilities Report
Lion Tony Buchan
Lions in this Multiple District have been working with Activity Alliance for many years to provide sporting opportunities young athletes with a disability to be more active and participate in sporting activities at their own level. One of these events is the Annual Junior Championship Games.
After a break of a year, due to Covid 19, the 2021 Activity Alliance Junior Championship Games were held at the Coventry Godiva Stadium on Saturday the 3rd July 2021.
A total number of 26 Lions from, 11 Clubs based in 2 Districts (A and CW) turned up to help. Two local Clubs, Coventry Mercia and Warwick, came to help for the first time. 19 of the volunteers had attended previous Games and those attending for the first time said they will come again.
This year's Games were run under Covid Safe rules. This meant fewer athletes attended and they restricted the events that took place.
80 able bodied athletes and those requiring assistance or equipment took part. On the track there were races covering distances of 60m, 100m, 200m and 800m.
On the field athletes participated in the Long Jump, Discus, Shot. For those athletes with limited movement events using balls and bean bags took place along with a Slalom Course for those in electric wheelchairs.
The roles covered by Lions included car parking, temperature taking, water distribution, helping in the Registration tent and assisting Game Officials and running events on the field.
The Lions Endeavour Trophy, awarded to the athlete who displays enthusiasm and shows the best sportsmanship, was presented to Kirsty Drexler. Kirsty has limited mobility and is in an electric wheelchair. She participated in the Wheelchair Slalom.
At the moment I am making arrangements for the 2022 Annual Junior Championship Games which will be taking place over the weekend of the 2nd and 3rd July.
In 2022 Activity Alliance will be running Regional Games in Liverpool on the 24th April. Lion Erica Collins and other Lion volunteers will be attending to help at the event.
Another way that Lions can support Activity Alliance is to donate money to the Activity Alliance. Any money donated goes to cover costs to run Regional Games and Annual Games. No money donated by Lions Clubs goes towards administration costs.
If your Club would like to donate money to Activity Alliance please make an online payment through the District Treasurer. Name of the cause is Activity Alliance and payee reference is your Club name. Please record your donation on MyLion and also advise me if a donation is being made so I can send a Thank You letter.
At the 2022 Annual Games I will be presenting a display cheque for £1,850 to Jannine Walker, from Activity Alliance. This is money the amount that Clubs in the Multiple district have donated to Activity Alliance since July 2021.
Lion Penny Tregillus
MD Activity Alliance Liaison and Promotion Officer

---
Speech and Hearing Report
Lion Penny Tregillus
MD Speech and Hearing Officer
Since last Convention it has been difficult for District Officers to promote hearing projects effectively due to Covid restrictions. But since Covid regulations have been relaxed, along with other District Hearing Officers, I'm working on more face to face contact between Lions and the general public to promote the distribution of resources - Deaf Aware Cards, Door Hangers and I SEE WHAT YOU'RE SAYING Badges - and Deaf Aware Training. Please contact me, or your District Officer responsible for Hearing Projects, if you know of any hearing impaired people who would benefit from any of these resources or if you know of any Lions, companies or organisations that would benefit from Deaf Aware Training.
The Collection of Used Hearing Project continues to grow. This is due to the interest shown by Clubs in this Project and an article in "Yours" Magazine.
Clubs in the Multiple District have directly donated over 11,000 hearing aids and audiological equipment to this Project. My thanks go to all Clubs who have assisted in this Project.
Due to the promotion of this Project, by Lions in this Multiple District, members of the public, hospital audiological departments, and private audiological organisations, especially Specsavers are now donating hearing aids and audiological equipment.
To donate used hearing equipment send it direct to Dr Michael Nolan. For small amounts send it through the post and larger amounts use a courier service.
His address is:-
Dr Michael Nolan, [ask me for address].
In your package include your contact details (email address/telephone number) so an acknowledgement can be sent.
Remove any batteries and excess packaging to save on cost.
Alternatively used hearing equipment can be sent to Chichester Lions and National Headquarters along with spectacles. Chichester Lions/National Headquarters then send it on to Dr Michael Nolan.
Dr Michael Nolan and Starkey Hearing Foundation refurbish any items they receive and find new homes for it. Since last Convention hearing impaired people living in Pakistan, Sri Lanka, Sudan, Cambodia,, Mauritania, Zambia, Philippines, Ethiopia and Sierra Leone have benefited from it.
Hearing Dogs for Deaf People train dogs to help hearing impaired people lead a near normal life as possible. For eighteen months, since November 2020, District 105A has been sponsoring "Lennie", as part of the "Support a Puppy" Project, to train to be a hearing dog. This sponsorship deal ended in April 2022. Lennie appears to be doing well and is expected to go forward towards the next stage of his training.
Lion Penny Tregillus
---
Prostate Cancer Report
Lion Dave Ebsworth
MD Prostate Cancer Officer
There are no decisions to be made:-
Since last year's Multiple District Convention the Pandemic has put a stop on PSA testing but several of our clubs have enrolled with The Graham Fulford Charity Trust and have been supplying home kits for testing in small numbers, at this stage it hasn't really taken off.
Then in November / December there was the shortage of blood vials and so this then hindered clubs holding events.
During this year several clubs have been in touch with a view of holding PSA test and I am pleased to say that Havant and Salisbury Lions within my own district have already started planning, they are both using different companies to assist them in running the events. These are The Loganberry Trust and Prostate Cancer Support Organisation (PCaSO). Other clubs are considering doing them later in the year. A couple of clubs who contacted me and asked me to talk on Prostate cancer testing never came to anything again I believe due to the pandemic.
My own club Reading on 14th May are anticipating being able to test 2000 men, working together with The Rutherford Cancer Centre. I believe this is the way forward partnerships it works two ways they help with the cost and publicity and also possible new members from the other organisation and those tested.
Prostate Cancer UK have also suffered reducing staff and working from home. We were meant to have a Zoom meeting, but this is still on hold until they are back in the office, unfortunately I can't give a date.
I am very please with the Prostate Cancer lapel pin it is selling slowly but are doing well at £4.50 each with stocks at National Headquarters (MDHQ in old money)
I have been in discussion with Mandy Broadbent and we will be doing an article to circulate, this will encourage clubs to look at or restart their PSA programs and push the sales of the lapel pins. I still have serious concerns that over the last year's, plus clubs have not been getting funds coming in and therefore may not be able to afford the luxury of a PSA testing day in anyway, hence the idea of partnerships.
It is very important that we try to help men get Prostate Tests done. There is plenty of scope now the pandemic is hopefully almost over for testing but we still have problem areas where the NHS AND LOCAL DOCTORS WILL NOT SUPPORT THE TESTING.
I know that there is pressure on DGs to appoint Prostate Cancer officers due to the large amount of posts they have to fill but I hope next year more consideration will be given to support this great cause.
Finally this is my last year and I wish and will support next year's MD Officer.
Lion Dave Ebsworth
---
Lions Brain Tumour Research Appeal – Project Lead Report
Lion Fran Stary
Brain Tumour Research Officer
The grand total raised to date is currently standing at £151,869.

We have now had some very successful meetings with representatives from all Districts which has generated some great discussions.
There have been several clubs across the MD who have been considerably generous, and we thank those clubs. We hope more clubs choose to support us in the near future to help us reach the £1million target.
We have some upcoming events which we hope many will look to support including the following:
250 club – see leaflet
Spinning the Wheels – ongoing campaign for clubs to link their events to in support of the Lions Brain Tumour Research Appeal.
Wear A Hat Day With Flowers (WAHDWF) – in June 2022 (the Nation will be joining on 17th June).
Swimathon – running throughout the 2022-23 Lionistic Year.
Host for Hope – throughout summer
Walk of Hope – September 2022 (the Nation joining in on 24th Sept).
I welcome all to contact me for further information.
We are currently looking forward to the new Lionistic year and the new appointed District Brain Tumour Research Leads/representatives and are working on organising a tour of one of Brain Tumour Research's Centre of Excellence for both outgoing and incoming Lions Brain Tumour Research District Officers. Not all new Officers are yet known, but we look forward to working with them in the new Lionistic year.
Lion Fran Stary